2017.01.17
February 10(Fri) , Internship Report and Project Based Learning Final Presentation.
Internship Report and Project Based Learning Final Presentation
◆Date: 13:30-18:30 Friday, Feb. 10, 2017
◆Place: Room 221, 2nd Floor, Engineering bldg #2, Hongo Campus
Participation application:
If you want to attend this event, please feel free to contact GMSI Office and tell your name and affiliation by February 3rd, 2017.
【E-mail】 office[at]gmsi.t.u-tokyo.ac.jp (Please replace [at] with @)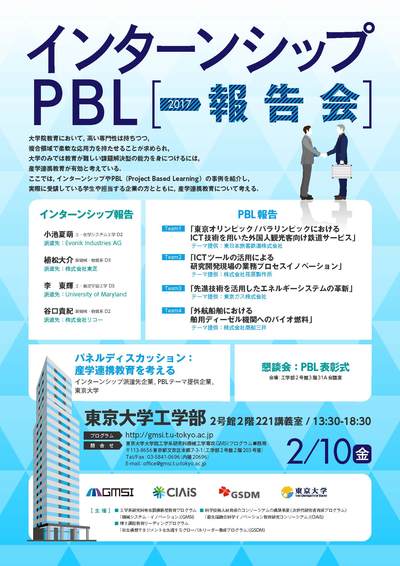 Objective :
In the graduate education, the high degree of professionalism is requested and the flexible adaptability in the composite region is also requested. It is thought that the industrial-academic complex education is effective to acquire the ability of the problem solution which is difficult to own only by the education in the university. At the conference, we will think about the education for the industrial-academic complex by introducing the case with the internship and PBL (Project Based Learning) with the student who is actually attending a lecture and the people from the enterprise who takes charge.
Schedule:
13:30-13:40  Opening
 Shigeo Maruyama (The University of Tokyo)
13:40-14:40  Report of Internship Activity
 Natsume Koike (Department of Chemical System Engineering, Evonik Industries AG)
 Daisuke Uematsu (Department of Chemical System Engineering, TOSHIBA CORPORATION)
 DongHwi Lee (Department of Aeronautics and Astronautics, University of Maryland)
 Takanori Taniguchi (Graduate School of Frontier Sciences, Ricoh Company Ltd.)
14:40-15:40  PBL Session
 Team1 Railway Service for Foreign Tourists Using ICT Technologies for Tokyo Olympic/Paralympic Games ( theme proposal: East Japan Railway Company)
 Team2 Work Process Innovation in R&D Laboratory by utilization of ICT Tools ( theme proposal: EBARA CORPORATION)
 Team3 Innovation of energy systems with advanced technology ( theme proposal: TOKYO GAS CO.,LTD.)
 Team4 Feasibility Study of Bio Fuel for Ocean Going Ship (theme proposal: Mitsui O.S.K. Lines, Ltd.)
15:40-16:00 Break
16:00-17:20 Panel Discussion: Issues and practice of education for industrial-academic complex
 Panelist: Industry and the University of Tokyo members Coordinator: Yasuyuki Yokono (The University of Tokyo)
17:20-17:30 Closing
 Junji Yumoto (The University of Tokyo)
17:30-18:30 Post-meeting party (31A Conference room, 3rd floor, Engineering Building #2)
 Awards ceremony: Shigehiko Kaneko (The University of Tokyo)
Prospective participants:
 Client of the internship and candidate client, PBL theme proposal enterprise, Student attending the internship or the PBL lecture, Related teacher, Candidate of attending a lecture student (doctor, master, and faculty)
Registration fee:
 Free of charge (Fee for Post-meeting party is 1,000 yen).
Organized by:
 Graduate Program for Mechanical Systems Innovation (GMSI)
 Research and Education Consortium for Innovation of Advanced Integrated Science (CIAiS) 
 Global Leader Program for Social Design and Management (GSDM)
Contact Information:
 The University of Tokyo, Department of Mechanical Engineering
 「Graduate Program for Mechanical Systems Innovation」Office
  〒113-8656 7-3-1 Hongo, Bunkyo-ku, Tokyo
  2nd Floor Room 203 Engineering Building 2
  Tel/Fax 03-5841-0696 (Tel. extension 20696)
  E-mail: office[at]gmsi.t.u-tokyo.ac.jp (Please replace [at] with @)