2016.03.11
【Event Report】Tea Time Tech13 Report on the 2015 Career Guidance Seminar for Female Students by the School of Engineering of the Tokyo University
Tea Time Tech13
Report on the 2015 Career Guidance Seminar for Female Students by the School of Engineering of the Tokyo University

Katsuko S Furukawa(Committee for Gender Equality)
Career Guidance for female students by the School of Engineering of the University of Tokyo was held on Jan 22nd 2016. During this Career Guidance, we planned Lab Tours and a Career Guidance Seminar for female. Although this was held on the Hongo Campus, a lot of students and staff took part in the event.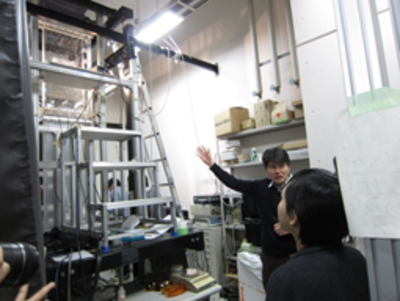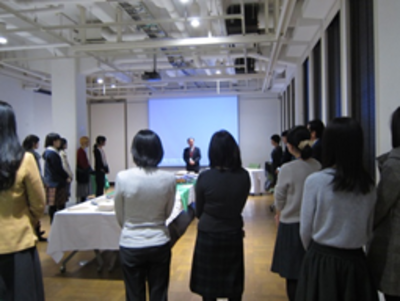 The members visited 3 laboratories; the Yamashita-Ushiyama Lab in the Department of Chemical Engineering, the Takagi Lab in the Department of Mechanical Engineering, and the Kubota Lab in the Department of Urban Engineering. It was impressive how eagerly assembled members listened to the professors words.
The seminar event started with welcome remarks by Prof. Shinobu Yoshimura, the vice-dean of Engineering, and then Prof. Akiko Kumada from the Committee for Gender Equality in the University of Tokyo. Next, Ms. Ayane Maekawa, who graduated from the Department of Urban Engineering, Ms. Shiho Yoshii, and Prof. Tomoko Chikumoto introduced their careers after graduation and their coping with life events such as marriage and the bearing and raising of children. Finally, Prof. Shu Takagi, the head of Gender Equality in the School of Engineering, closed the evening.
The event, which was 90 min long, left the attendees wanting more. The results from the questionnaire show a high level of satisfaction to the participants. Finally, we would like to express our appreciation for all participants and the support staff during the event.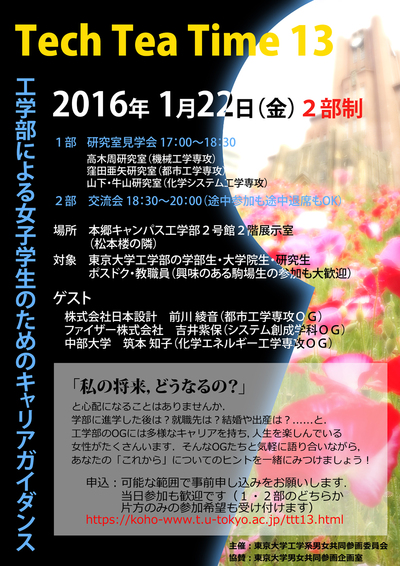 1. Brief Overview
■22th Jan 2016 (Fri), Lab Tours17:00~18:30, Guidance Seminor18:30~20:00
■Hong Campus, Exhibition Room, 2nd floor, 2nd Building, School of Engineering
■Participation:All female members interested in the School of Engineering of the University of Tokyo
■fee: free
2. Program
■Lab Tours 17:00-18:30
Department of Chemical Engineering, Yamashita-Ushiyama Lab 
Department of Mechanical Engineering, Takagi-Lab
Department of Urban Engineering, Kumota-Lab
■Career Seminar 18:30-20:00
Chair:Aya Kubota
18:30-18:40 Welcome Remarks by the
Vice-dean of the School of Engineering
By Shinobu Yoshimura
Vice-Chair of the Committee for Gender Equality
By Akiko Kumada
Break
19:10-19:20 living by trial and error
By Ayane Maekawa, Alumna of Department of Unban Engineering
Nihon Sekkei Inc
19:20-19:30 My life-management
By Shiho Yoshii, Alumna of Department of Precision Engineering
Pfizer Inc
19:30-19:40 Living greedily
By Noriko Chikumoto, Alumna of Department of Chemical Energy
Chubu University
Break
19:54-19:57 PAQs(previously-asked questions)
By Katsuko S Furukawa, Committee member for Gender Equality
19:57-20:00 Closing Remarks
By Shu Takagi, Chair of the Committee for Gender Equality