2020.01.15
English wRIting Consultant (ERIC)
At ERIC, experienced UTokyo international graduate students review and give feedback on academic documents (conference presentations, journal papers, etc.) and career documents (resumes, etc.) for UTokyo students and staff.
・ ERIC is a free service.
・ You can receive up to two 30-minute consultations per document.
・ To save time, please indicate what specifically you would like to focus on in your consultation (rather than reviewing the whole document).
・ Priority is given to clients who reserve a consultation time in advance.
・ Consultations are normally conducted in English.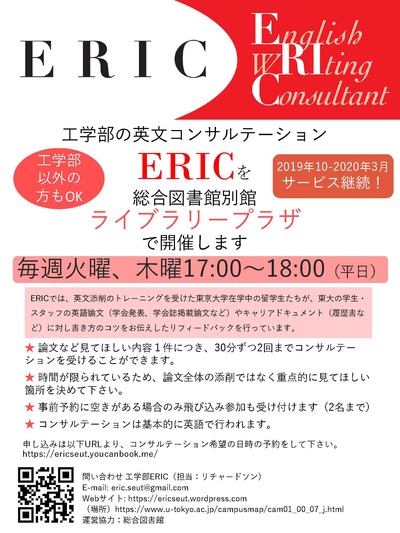 Consultation Time: Tuesdays & Thursdays, 17:00 - 18:00
Location: Library Plaza (General Library, Hongo Campus)
Reservations: https://ericseut.youcanbook.me/
Contact: eric.seut@gmail.com
Website: https://ericseut.wordpress.com
Poster:/shared/event/data/setevt_202001151613235809571189_201883.pdf