TOPICS
Dhimas Agung Kurniawan (D1), Department of Chemical System Engineering, received Hiroshi Itagaki Student Encouragement Award
On 20th November 2022, Dhimas Agung Kurniawan (D1), Department of Chemical System Engineering, received Hiroshi Itagaki Student Encouragement Award, The 35th Annual Meeting of the Japanese Society for Alternatives to Animal Experiments.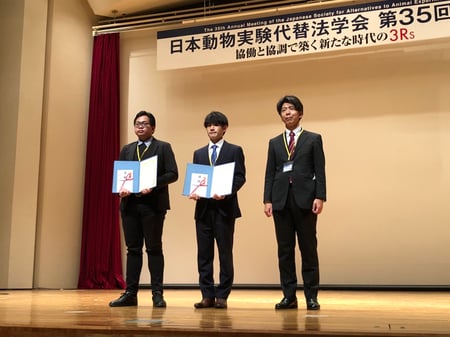 Hiroshi Itagaki Student Encouragement Award
The award is given to the student whose poster presentation at the conference is judged outstanding by a panel of judges, and is intended to encourage further efforts and contributions to research on alternative methods. The supplementary prize is donated by Dr. Hiroshi Itagaki (former Shiseido Co. and Yokohama National University), who has led the society since its inception.
About awarded research
The small intestine and liver play an important role in determining the fate of orally ingested drugs, suggesting the existence of crosstalk in drug metabolism between the two organs. In fact, it has been reported that coculture of human liver and intestinal cells in vitro increases the activity of drug-metabolizing enzymes (CYPs), but the mechanism is unknown. Microphysiological systems (MPS) can culture different cells under perfusion conditions of culture medium that mimics blood flow, and may be used to study this unknown crosstalk mechanism. In this study, we reported that crosstalk between PXB chimeric mice-derived human hepatocytes and iPS cell-derived intestinal cells cultured in on-chip perfusion-type MPS was significantly enhanced by both perfusion and direct oxygen supply through an oxygen permeable membrane. We have also reported the discovery of an important pathway by RNA sequencing. Thus, the understanding of organ-to-organ crosstalk using MPS will be useful not only for predicting the uptake of orally-ingested drugs in the body, but also for elucidating various organ interactions that exist in the body.

Your impression & future plan

In the near future, we would like to conduct further studies based on our current results to elucidate the crosstalk between liver and small intestine. There are many pathways and signaling molecules that might be of interest to this crosstalk. To that purpose, multi-omics approach in combination with the MPS coculture system could be suitable for the next studies.